Hi Steve.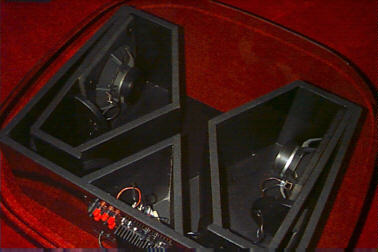 I just recently build a WO (Scaled up EXACTLY from the 36×24..) with 2 Cerwin 15's in it. I chose the v-max because of price and differences in latency, etc… with other drivers. The really high end Cerwin's and other comp drivers seemed to have more latency and boominess (To my ear..) than the v-max and I wasn't just looking for pure volume. Anyways, I slapped a cheap 4000 watt Lanzar amp on it, lit it up and blew the roof off the garage.. All I can say is HOLY MOTHER OF GOD!! I haven't even had the need to actually turn in up. I'm estimating a good clean gut pounding 100 decibels without the need to push the amp in the slightest.. The WO scaled to this size is a little heavy to cart around (Even with casters and handles installed..) but very well worth it.
I was recently asked to play at a friends wedding (I owed him a favour..) and used the WO along with 2 monitors (Sealed boxes that I built w 12's, horns, and a couple of 1000 watt amps..) that I quickly slapped together 8 months ago. The venue was a medium sized older bare concrete movie theatre converted to a party hall with the worst accoustics I've ever experienced. I got 4 business cards of people actually DEMANDING that I call them to play at parties and other outdoor events with my system.
I've been asked (Actually begged would be a more accurate term..) to use my system as a front end for my brother's band now in small to large and outdoor venues. I'll be building another WO of the same dimensions and purchasing your plans for the Pro 12's shortly to rebuild my existing monitors and an additional set. Already ordered the horns and compression drivers that you recommended for them along with a couple of 2000 watt amps with active crossovers. I'm probably going overkill on the amp power but I like lots of headroom to play with..
Thanks for all your hard work on these designs. I've been asked to build a WO for a friend who heard mine but I'm going to send them to you for that.
Let me know if you're interested in pics..
Thanks,
Ian.