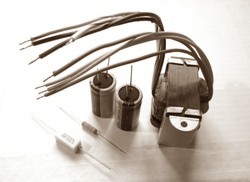 We now have two more D.I.Y. tube project kits, the  ZKIT4 and ZKIT5.  The ZKIT4 is a single tube stereo gain stage that can be used as a preamp or an output stage for a CD player or DAC.
The ZKIT5 is an excellent little power supply for the zkit4 and made possible by the new DECWARE EM0705 15ma world voltage power transformer.  It's that perfect little transformer for a single preamp tube with both 120 and 240 volt primaries, a nice 125-125 volt secondary at 15ma and a 12.6 volt secondary at 0.3A.
The ZKIT5 optionally comes with tube regulation using an OC3 glow discharge tube - talk about removing the grain!
Together the ZKIT4 and ZKIT5 are part for part exactly what we use for the class A triode output stage in our Zen CD player.  However, you could easily make yourself an absolutely killer sounding single tube preamp just as easily.  In fact if you're no beginner, you already know that by changing the parts values slightly the ZKIT4 could be used as a gain stage in a power amplifier or for that matter be turned into a buffer stage.