Featuring the 360 degree Decware Radial Drivers.
These hybrid radials combine a refined 6 inch Decware radial driver with a sweet sounding 5 inch forward firing driver for the best of both worlds. The radial driver gives a huge holographic sound stage while the conventional driver adds midrange presence for more extreme front to back imaging. When set up properly these speakers image and soundstage so well they can make other speakers sound broken.
The sound is refined and involving. With great extension in both the bass and treble these speakers simply disappear leaving only the music ~ and that's the goal of any serious audiophile speaker.
They use an isodynamic planar tweeter crossed at 8 kHZ via a single polypropylene capacitor. The physical angle of the tweeter can be adjusted perfectly for your listening chair height and distance from the speakers. The amplitude of the tweeter is externally adjustable as is the crossover frequency.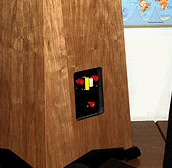 The cabinets are finished in beautiful hardwood accented with black cloth grills and hardwood bases. Below are the standard finishes.
Standard finishes
Custom woods or finishes are available for an additional cost.
Standard finishes come with a 30 day money back guarantee. If you don't like these speakers for any reason you can return them for a complete refund less a 10% restock fee. Our way of making it as easy as possible to audition speakers in your home for a minimal risk.
---
Owners manual in pdf format