I'd like to think that our amplifiers live in the top of the pecking order in the categories of transparency and neutrality. This would have been impossible to achieve without a REAL reference cable because I can't make an amplifier any more transparent than the cable will allow me to hear.

These are what I use: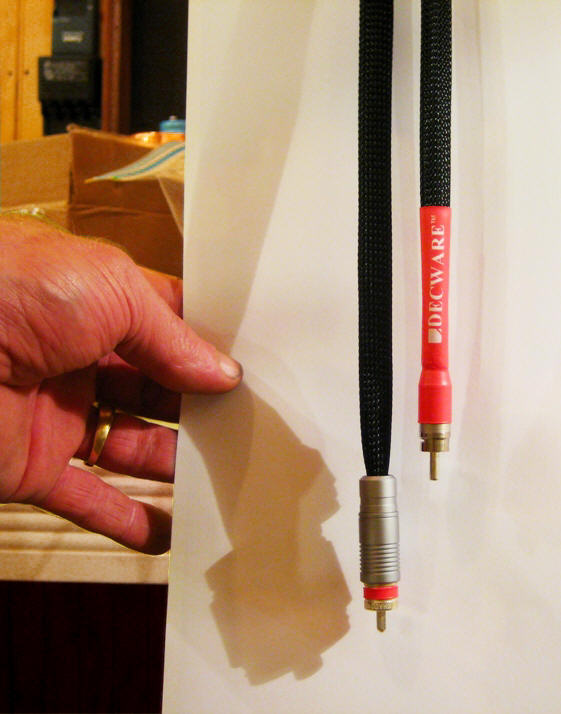 Shown with either type of available Silver RCA connectors, these are stupidly good without being stupidly expensive.





- Steve Deckert




What makes this cable different than most are the conductors themselves. They are a rope lay grouping of flat silver ribbons wound around a bees wax impregnated cotton fiber core. (see pics below)
This unique conductor was designed to be flexible and completely non-resonant. Unlike solid or stranded conductors, this amazing stuff can be bent repeatably and continuously for years without fatiguing and is immune to vibration and resonance.
Another nice caveat of these cables is that the light weight and flexibility will keep your equipment jacks in perfect condition over the life of your gear since there is ZERO stress at the connector. Thick, stiff or heavy cables, while impressive to look at, will fatigue even expensive RCA jacks in a relatively short time due to the constant tension on the jack. This in great irony undoes most of the benefit of purchasing a good cable in the first place.
The construction of this cable features an insulator that is 95% air. To preserve the anti-resonant quality of the conductors the cables are made in a non-resonant, soft outer jacket. The RCA connectors, an integral part of a cables sound, are silver and silver solder is used to minimize the effects of dissimilar metals. These particular features will narrow down your short list of cable choices to one... These.
There are other light weight cables but most are pretty delicate and can break or fail with repeated use. These do not fall into that category. In fact the conductor in this cable can be flexed millions of times for years with no signs of wear or fatigue. It is inert to even intense vibration at all audio frequencies and the jacket is designed to preserve this quality. As a result the conductors do not respond to self-induced signal resonance and they are not effected by vibrations traveling down the cable from the equipment, nor are they effected by loud sound levels in the surrounding air. This gives the cable a consistent balance that prevents sudden signal transients or room resonance's from altering the sound... No other audio cable before these has ever used this technology and as far as we know still don't. They are truly different which may be why so many cables priced in the four figure category seldom sound any better, most not as good.