The CSP3 is a purist execution of a classic all-tube line stage and OTL headphone amp. It uses 6N1P/6922 triodes with zero negative feedback and is all point-to-point wired using boutique parts and wire. It is built so well that it comes with a lifetime warranty.

Besides its incredible sound, what makes this preamp unique is its adjustability. You can adjust the output level for each channel to anywhere between 0 and 30 Volts RMS which is enough to drive any type of amplifier with amazing weight and control. It's a simple process. You just set your volume control to 12 o'clock and then raise the output levels slowly until you reach what you would consider your normal listening volume. Your preamp is now perfectly set and matched to the amplifier.

For headphone users, there is an adjustable input level control for each channel allowing you to compensate for high- and low- efficiency headphones. This way your master volume control can operate throughout its entire range without getting too touchy or aggressive.

There are two headphone jacks on this unit, which can be configured for 1/4" headphone jacks, 4-PIN XLR jacks or dual 3-PIN XLR jacks. That covers all known types of quality headphone cables that you might have. Many people will configure it with a 1/4" jack on one side and a 4-pin XLR jack on the other side so that both types of headphones can be used.

The headphone output is suitable for 32 to 600 ohm headphones excluding some planar headphones, which may become volume- limited due to their low efficiency.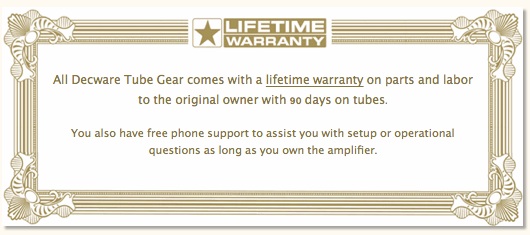 ---

Model CSP3 Line Level Preamplifier / Headphone Amplifier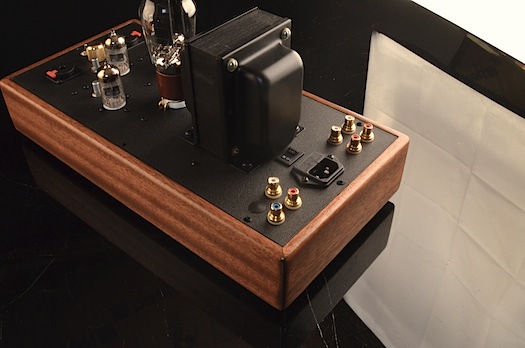 Rear View - 2 pair of inputs - 1 pair of outputs + 1 mono output
---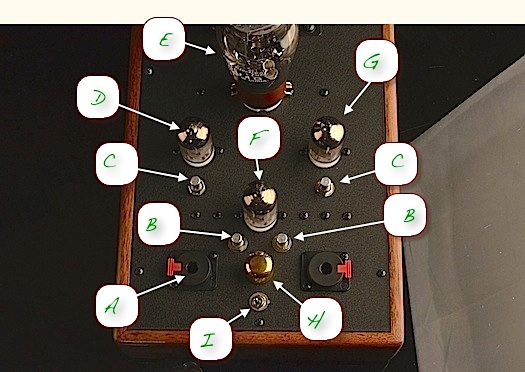 A) Locking 1/4-inch headphone jacks - one for each side.
Use either side or both. Dual 3-pin or dual 4-pin XLR jacks are also available.

B) Left and Right Headphone Calibration Controls.
These are used to calibrate the master volume control so that your headphones don't get too loud, too fast. Typically set so that the master volume control is half-way up at your normal listening level. They can also be used to adjust the balance between the left and right ears.

C) Left and Right Line Level Output Controls.
These are used to dial in the gain of this preamp so that it is perfect with any amplifier. You can adjust the outputs to between zero and six volts. The trick to this is also simple. Just turn them all the way down, turn on your amplifier, raise the master volume to around half-way up and then slowly adjust the output level controls to reach your normal listening level. This guarantees a perfect match with any amplifier regardless of its input sensitivity and power. These can also be used to adjust left/right balance between channels.

D) Left output Triode 6N1P-EB or 6922


This is the workhorse tube for the left channel. While it is a dual triode, it is wired in series with itself to lower the output impedance and improve transparency since the two halves of the tube no longer have to match.



E) Rectifier Tube - 5U4 or 5AR4 or 5Y3GT or some 274B
This is the power-supply tube that rectifies AC into high-voltage DC. Compatible with those listed above tube rectifiers have three advantages: 1) They sound better 2) You can use different ones for different signatures when voicing your unit 3) They protect the amp from power surges. In extreme cases such as nearby lightning strikes they will fail to save the preamp. Easy and inexpensive to replace, they eliminate costly service and down time, which are common with solid-state rectification.

F) Stereo Input Tube - 6N1P-EB or 6922 or 6DJ8


This is the main tube for voicing the unit. It is a dual triode and has both the left and right channels going through it. This makes tube rolling quick and inexpensive when you get in moods to experiment with the CSP3's sound.



G)

Right output Triode 6N1P-EB or 6922

H


This is the workhorse tube for the right channel. While it is a dual triode, it is wired in series with itself to lower the output impedance and improve transparency since the two halves of the tube no longer have to match.



H) Master Volume


This is the master volume control located near the front for ease of access and only one inch away from the input tube which keeps the signal path as short as possible. Optionally when you're in the shopping cart, you can configure the CSP3 with a gold contact stepped attenuator.



I)

Source switch




This simply selects between two-line level sources. It has silver contacts and is located directly next to the volume control to eliminate long signal paths. This is a purist way of having two inputs. If you require more inputs, we sell a high-quality switch box that can be used to expand the inputs from two to five. Often we'll run our best analog source directly into input A on the CSP3 and input B is the switch box containing all of our digital sources.





---

This amplifier is available with different wood bases shown below.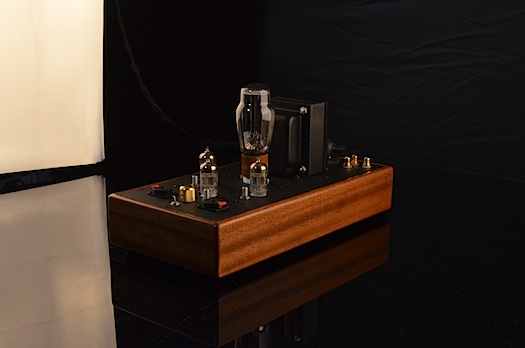 shown in standard walnut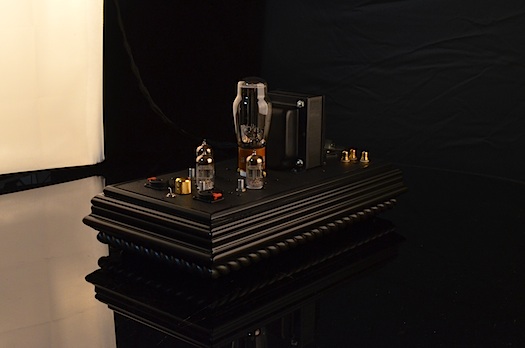 shown in standard black molded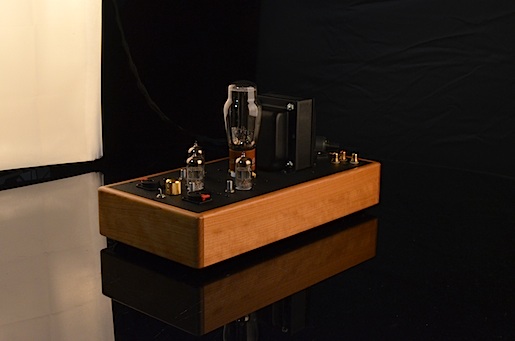 shown in optional cherry (oak and maple are also optional)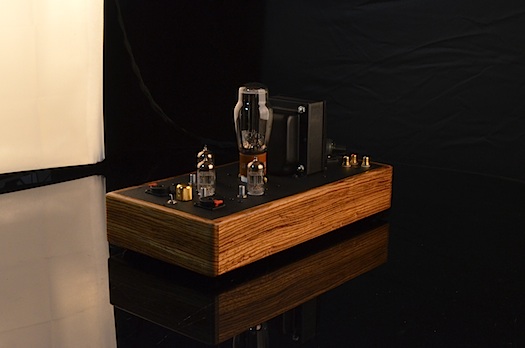 shown in zebra wood (exotic woods are custom)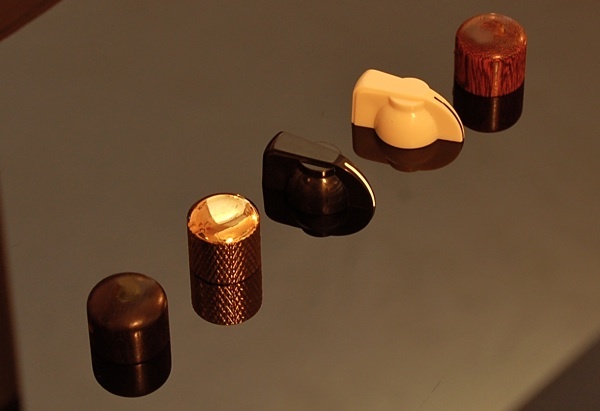 ebony, gold
, black
, cream and
walnut
knobs
---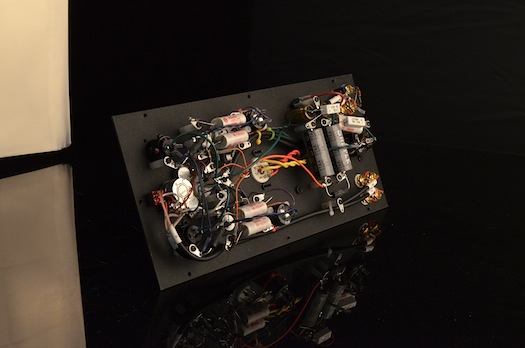 CSP3 inside view

A) 20-position stepped attenuator vs. standard volume control

B) Different types of signal caps
C) Dual stereo outputs or a Stereo pair and a mono jack

D) Choice of headphone jacks

Select from four types of coupling caps shown below: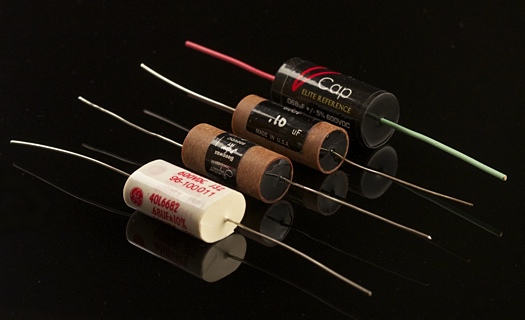 Shown left to right 1 ~ 4



1)
Film Capacitor
Industry-standard audiophile signal capacitors
2)
Jupiter Cryo Beeswax - type I
Boutique high-resolution signal capacitors


3)
Jupiter Cryo Beeswax type II
Boutique higher-resolution
signal capacitors
4)
VCap Copper Foil
Boutique higher-resolution higher-gain
signal capacitors
NOTE: Choices 3 & 4 make the unit non-refundable.
NOTE: All options can be configured and priced from within
the shopping cart.
---

2018 UPDATE


Due to amazing sonics made possible by the technology used in our 25th Anniversary Zen Triode Amplifier... an anniversary mod has been developed for this preamp.

The mod introduces a pair of voltage regulator tubes to handle the high voltage for each channel and then the power supply is heavily bypassed with beeswax caps.

The result is a resolution explosion combined with more juicy tone and weight.

This can be selected in the shopping cart under the signal caps' option.



---




CSP / 2002 ~ 2006

The original CSP featured a simple steel chassis, and the output level controls were internal. It was a line level preamp only.



CSP2 / 2006 ~ 2010.

The second version featured an upgraded chassis and a completely new circuit featuring an OTL headphone output. Line level adjustments became external output level increased from 5 volts to a max of 30 volts.


CSP2+ / 2010 ~ 2013.

Added set of variable input trim controls used to fine-tune the output level from your source. This allows you to adjust for any headphone efficiency. Internally, there were also come layout improvements.



CSP3 / 2013 ~ present.

Features a new layout, high-mass steel plate, and an improved layout makes it possible to offer the larger-sized cryo-treated beeswax caps. Sonically this unit has improved transparency and blacker backgrounds.

---

This preamplifier requires no adjustments or maintenance other than changing tubes every couple years.

Weight

16 lbs. ea.

Dimensions

8.5" H x 7.250" W x 14.75" D

Circuit type

Single-ended Class A Triode OTL

Output

Adjustable 0 ~ 30 volts


Input voltage

Adjustable

Noise / Hum

Less than 0.5 millivolts

Input Impedance

100k ohms

Output Impedance

< 600 ohms

Feedback

ZERO negative feedback used

Rectification

5U4 tube rectification

Signal tubes

6N1P-EB or 6922

Biasing

Self-Biasing circuit - never needs adjustment

Resistors

All resistors are audiophile grade

Signal Cap

Audiophile grade poly film or cryo beeswax caps


Filter Caps

All filter caps are premium quality

AC cord

Fused IEC connector provided with removable power cord

Consumption

65 watts at full power

Input jacks

High Quality RCA type 24K Gold / Teflon

Output jacks

High Quality

RCA type 24K Gold / Teflon

Headphone jack

High Quality

dual 1/4 inch stereo jack or dual 3-pin XLR or dual 4-pin XLR or one 1/4 inch and one 4-pin XLR


Warranty

Lifetime to original owner / 90 days on tubes
---

Read original the CSP2 Design notes with updates.

The owners manual can be viewed on line or printed:
CSP3 Owners manual.pdf


This amplifier is hand built in the USA by DECWARE / High Fidelity Engineering Co. It comes with a lifetime warranty to the original owner. If you purchase one second-hand and ever have questions or technical problems, we WILL be happy to check it out for you and service it if needed for a very reasonable rate.
We also have a support forum with a large community of customers who own this amplifier whose experiences can not only be helpful but inspire new ideas!


You may read
reviews on our products
here.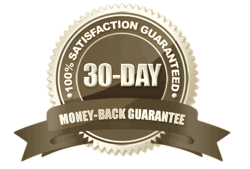 We offer this preamp with

a 30 day money back trial


so you can
hear one in your own room!