A perfect speaker for tube amplifiers.

Designed by Steve Deckert

---

The DM945 was made possible by a unique 8-inch driver who does the nearly impossible: Have real bass in a cabinet with only 1/4 cubic foot of air space, and maintain an efficiency of 94dB at 1 watt. Finding one or the other is not terribly hard to do, but finding both is extremely rare.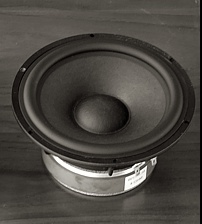 The response of this driver is smooth enough that no crossover is needed! The natural silk speaker cone damped by a rubber surround makes possible for a beautifully smooth and laid back midrange.

This is complimented by a seamless pairing to a planar dynamic ribbon tweeter. The tweeter is protected by a boutique film capacitor.

The result is a small high efficiency basically crossover-less bookshelf speaker that can be optionally stand mounted. With the large 8-inch driver, you get the and bass performance, scale and punch of larger speakers with the imaging of a small bookshelf. It's a win-win.

These speakers are a great pairing with lower power tube amplifiers ranging between 2 and 60 watts.


---
The ultra-clean look of this speaker comes in part from the hidden neodymium magnets in the grills and cabinets. They're impossible to break and always work perfectly no matter how many times you take the grill on and off.

The high density cabinet is ported in the rear and finished in a real hardwood veneer. These cabinets are hand made in the USA and feature aggressive internal dampening.

Machined and anodized, the DM945's thick aluminum rear plates are hosting top-end binding posts to virtually eliminate the flex and vibration associated with standard speaker terminal cups. You can't wear these out or break them off even if you use the most aggressive over-sized speaker wires.

Gold jumpers are included, that if removed will allow you to bi-wire or bi-amp these speakers.

All internal wire is oxygen-free copper with silver solder. There are no crimp connections anywhere.

---

Some Great Options



Midrange Option

Shown here, this option can be selected from within the shopping cart. This option adds the midrange presence often found only in smaller diameter drivers by replacing the speaker's dust cap with this custom machined phase guide. This somewhat intentionally defeats the speaker's naturally laid-back character.

While the stock speaker is good for less than ideal listening rooms that lack treatment or are just naturally bright sounding...

The midrange option shown installed is ideal for better balanced rooms, which sound good with more a more detailed midrange.

While it might not seem like much, the dual voicing makes it possible to recommend this speaker for any listening room.




Monolith Option

As an alternative to stand mounting your DM945's, we have designed a
companion cabinet that is notched out for the bookshelf speaker turning it into a full-range floor standing model.

The companion cabinet is a complex folded horn that couples to the rear port of the DM945 extending its bass response to 25Hz!

This option is so awesome that a separate page was created to explain it more.


---
Customer Comments

"Hey Steve...

Finally got the 945s un-boxed and somewhat set up. actually they weren't set up at all; I basically just tossed them into position, fired up the system, and threw on Diana Krall's "Live in Paris" cd. I am very, very familiar with this cd... and i hate to admit it, but compared to my Ambience Reference speakers ($13,000), the 945s actually did a few things better... certainly as good... and that's right out of the box.. no break in. After actually setting up the 945s, including a bit of tweaking here and there, and too, living with them for a bit with all types of music, i can't believe how good these puppies actually are. Their detail and overall musicality is uncanny... actually surpassing my Ambience speakers, esp in the detail work, albeit not by anything huge... but still (how's that possible!!??). Mated with my Torii III.. a match, a marriage made in audiophile heaven. All I can say, Steve, is that you broke the mold when you designed and made the 945s. Anyway, my friend... I am very... no.. extremely pleased with these speakers. Great, great job, Steve. Great job. Hope you're well. Take care...

-George"

---

Specifications





94 dB @ 1w/1m

42Hz ~ 22kHz

6 ohms

Max SPL 115dB

Minimum Power 2 watts

Maximum Power 100 watts

Size 9" wide, 10" deep, 16" high

Shipping weight 25 lbs ea.

Hidden Magnet Removable Grills

Dual 5 way bi-ampable gold binding posts with included jumpers

---
Support / Warranty / 30 Day In Home Trial
This loudspeaker is hand built in the USA by DECWARE / High Fidelity Engineering Co. who handles support and offers a 5 year warranty.

Try it for 30 days in your system. If you're not more than pleased with the results you can send them back with a 10% restock fee.
We also have a support forum with many people who own our speakers whose experiences you may benefit from.

REVIEWS
You may read
reviews on our products
here.