The Zen TORII Mono's can liberate even the most fanatical audiophiles from the buy and sell merry-go-round.


DECWARE flagship amplifiers representing solidity and timelessness.




These amplifiers are designed to be your final amplifier purchase. They achieve this ability by getting everything down to the last detail... right. The kind of "right" that goes WAY beyond their impressive specs or appearance. They are created BY human ears FOR human ears.

With these Zen designed amplifiers from DECWARE, you can see better with your eyes closed!
Zen Mono's are for People who want MORE than to just hear the music... they want to float in it!



Each Zen Mono is hand built right here in the USA by Decware and has been hand voiced and matched down to the finest details.

The fidelity of these amplifiers catch most audiophiles off guard... Then their face starts to hurt from smiling so big!


These Zen Mono's easily maintain the glowing transparency and imaging that have become known as the Decware Sound and I'm proud to put them at the top of our line of world class amplification.

I should also mention that these hand built works of art are made in limited quantities
each year.






Steve Deckert - owner
DECWARE High Fidelity Engineering


60 watt class-A monoblocks.
2 Transformer Balanced XLR Inputs - selectable.
1 Single-ended RCA input.
Input level control.
Ultra cool bias adjustment - no tools required and can be done on-the-fly.
Large Simpson Meters - let you maintain PERFECT tube matching without effort.
Exotic parts - cost no object design.
KT88 Ultra-linear output stage.
These amps can run speakers between 4 and 16 ohms.




One of the things that makes the Zen Mono's unique are their insane power supplies.

A typical tube amplifier this size uses capacitors with a value of around 80 micro-farad.

The Zen Mono's have 500 volt main caps totaling 4,400 micro-farads. Yes, that's 55 times more than normal but we did mention that it was a cost no object design and the massive capacitors come with some huge sonic benefits. Each amplifier's power supply has enough stored energy to start your car and melt all four tires to the garage floor!


You can select from the Black Figured Base shown above OR the Contemporary Style solid hardwood bases shown below.



| | |
| --- | --- |
| | |
| Natural Maple | Black Satin Finish |
| | |
| Dark Walnut | Natural Cherry |
You can select these options (and what color knobs you would like) from the shopping cart.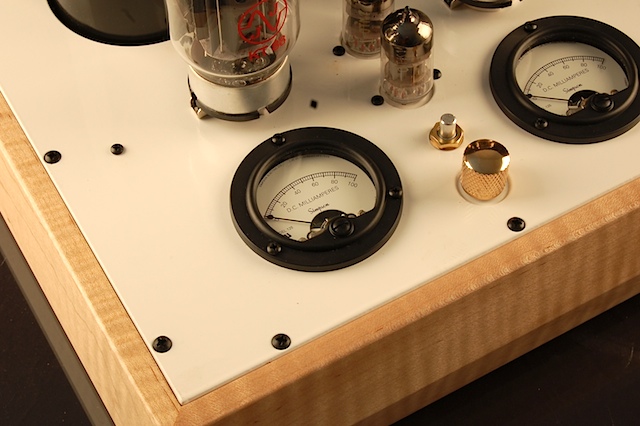 The gold knob in this picture is the input level (gain) control. It features a 21 position gold contact stepped attenuator. Optional black knobs can be selected at checkout.




With the Zen Torii Mono's you get the very best parts money can buy... carefully chosen for their consistent sound quality.








Ceramic tube sockets that feature gold plated connectors offering high pressure contact area on the surface of each tube pin. Like the amplifier, they last forever and are guaranteed for life.





Specially ordered for the Zen TORII Mono's are these Simpson Current Meters with jeweled movements. You can't get a more dependable or accurate meter at any price. And since they are in the cathode signal path they effect the sound of the amplifier in some rather wonderful ways.
After trying everything from VCAPS to Mundorfs, a year long cap selection process ends with these Cryo-treated flat stacked copper foil capacitors featuring an organic bees wax dielectric and silver leads. Not only the type of cap but it's value was also evaluated by ear which is why it's 10 times larger than the circuit requires.
Special giant computer grade 500 volt capacitors were selected to handle the needs of the Zen TORII Mono's power supply. Shown laying in front of the two huge caps are the normal size caps that would typically be used in an amplifier of this size.



This theme of using over the top parts continues throughout the amplifier so it is impossible to further "upgrade" these amps... we've already done it for you and with great care.


| | |
| --- | --- |
| | Even the hand assembly and soldering are not left to chance. Here is a custom assembly bench set up just for the Zen Torii Mono's! |

These amplifiers have a bias meter for each output tube and a simple balance control located between the meters allowing you to easily adjust your amp so that both tubes are exactly matched at all times! You can do it on-the-fly while you listen to music or any time while the amplifier is turned on.




If an amplifier DOESN'T have a bias meter for each output tube, you can be assured that the current draw of the tubes will NEVER be exactly matched. This is because of the differences between tubes (even matched ones) combined with warm up time (temperature) and the way the input stage/phase inverter (smaller tubes) effect it. It's possible to have a perfectly matched pair of output tubes but a small imbalance in your phase inverter tube causes the them to draw different amounts of current in some cases exceeding 30%. Getting the output tubes to draw identical amounts of current is the KEY to a perfectly matched set.



This is one of the RARE FEW amps that tackles this problem.

Of course having meters on your amp is like having the worlds best custom tube tester designed just for your amplifier and will show you at a glance how strong your tubes are. Watching how the meters behave during the tube's warm up cycle is also telling of the future of that tube. It is actually possible with this amplifier, to use a pair of UN-matched output tubes and MAKE them match using this simple balance system. We have also created a window of adjustment so it's impossible to adjust it too high or too low... this way you can't get into any trouble. And finally, meters let you see if there is any clipping and if so to what degree. An excellent real time indicator of how close to full power your amp is playing at.

With a bias system that works this well, you can be assured your investment in even the most exotic output tubes will not be cut short from premature tube failure.



We hand select and match the tubes for these amplifiers. The amplifiers are tested and burned-in with these tubes insuring that you have a perfect set.

These include two Russian Military Grade 10,000 hour 6N1P-EV's with gold grids and two KT88's per amplifier.

KT88's were chosen for the output tubes in these amplifiers for several reasons not the least of which is their sound and huge popularity - translating into a huge selection of different brands and big time availability.

Here's a link to the KT88's history and which brands are good and which ones are fakes ~ giving you the necessary wisdom to buy with confidence in the years to come.

We ship the amplifier with Electro Harmonix or JJ brand output tubes which we find to be the best sounding and most reliable and longest lasting tubes in current production.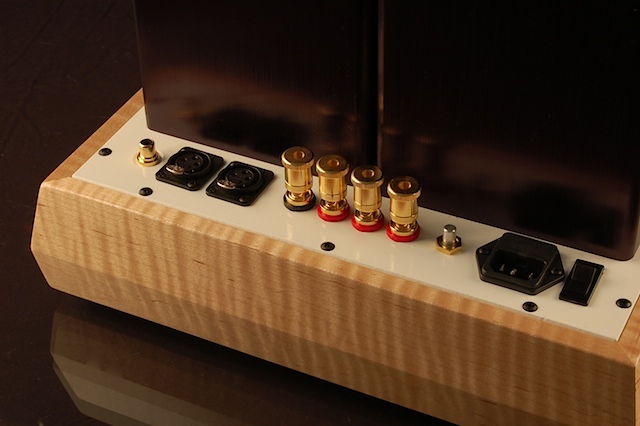 We include transformer balanced inputs - two of them, using the famous Jensen transformers on each XLR jack. There is a switch in the front of the amplifier to select which jack to use. The single-ended RCA jack is active at all times.

Very few amplifiers have high quality transformer balanced inputs, let alone two of them which allows two sources to be plugged in with total isolation to eliminate ground loops that can cause hum and noise.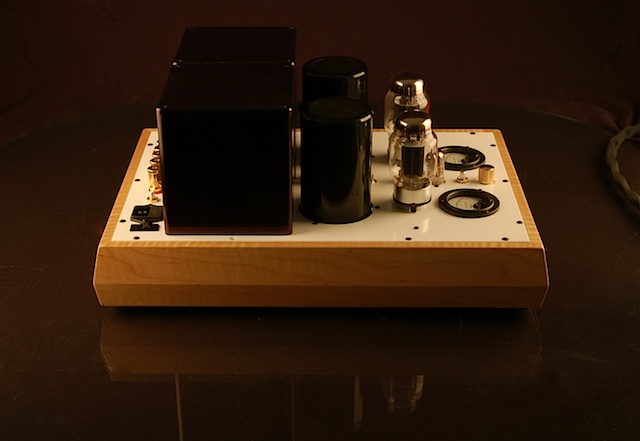 120/240 volt 50/60Hz


OPERATION: CLASS A1
INPUT TUBE CHOICES: 6922, 6N1P
OUTPUT TUBE CHOICES: EL34 6CA7 KT77 6550 KT88>
INPUTS: 2 BALANCED XLR INPUT JACKS FOR EACH CHANNEL - SELECTABLE
INPUTS: 1 UNBALANCED RCA INPUT JACK

OUTPUTS: 1 PAIR HEAVY GOLD 3 WAY BINDING POSTS PER CHANNEL FOR 4, 8, 16 OHM SPEAKERS
IDLE CURRENT: 50~90 MILS PER OUTPUT TUBE - ADJUSTABLE

HIGH B+ VOLTAGE: 510 VDC WITH LOAD

INPUT IMPEDANCE: 38 K OHMS
INPUT SENSITIVITY: FULL POWER @ 2.0 VOLTS ON RCA INPUT

POWER INTO 4 , 8 or 16 OHMS: 58.6 WATTS PER CHANNEL
NOISE: -90dB>
SILVER CONTACTS on SOURCE SWITCH
MACHINED OUTPUT SOCKETS WITH MACHINED GOLD CONTACTS
TOP GRADE SIMPSON CURRENT METERS 0 to 100 MA with JEWELED MOVEMENT<
WINDOWED BIAS CONTROL to ADJ OUTPUT TUBES
DYNAMIC BIAS BALANCE CONTROL FOR PERFECT MATCHING of EVEN UNMATCHED TUBES

1UF 600V CRYO TREATED FLAT STACKED COPPER FOIL BEES WAX - SIGNAL CAPACITORS
20 POS STEPPED ATTENUATOR w/ GOLD CONTACTS for INPUT LEVEL (GAIN) CONTROL
4400 UF 500V LABORATORY GRADE POWER SUPPLY CAPS

TOP GRADE GOLD TEFLON INPUT JACKS

RECTIFICATION: ULTRA FAST RECOVERY 3 AMP 1000V

MACHINED ALUMINUM CHASSIS with ANODIZED and POWDER COAT LIFETIME FINISHES
TOP GRADE FUSED IEC CONNECTOR for REMOVABLE POWER CORD
SOFT START- NO STANDBY NEEDED

SHIPS WITH:
PREMIUM GRADE KT88 OUTPUT TUBES
PREMIUM GRADE 6N1P INPUT TUBES

REMOVABLE DHC-1 SILVER TEFLON POWER CORD
SIZE: 19-1/8 " DEEP x 13-3/4 " WIDE x 8-3/4 " HIGH
NET WEIGHT: 36.8 lbs.
WARRANTY: LIFETIME TO ORIGINAL OWNER / 90 DAYS ON TUBES



ZEN TORII MONO OWNER'S MANUAL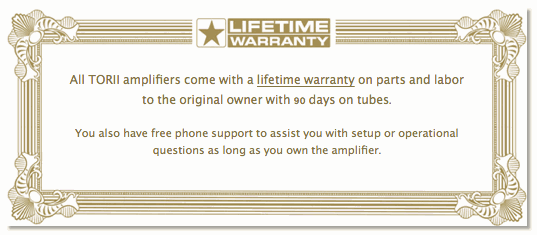 SPECIAL OFFER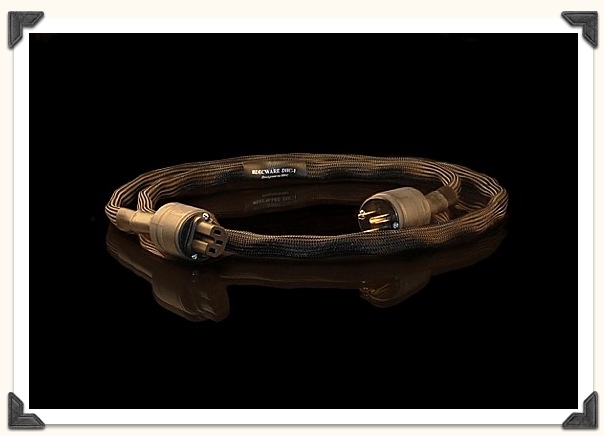 Each 120V amplifier will come with a FREE - DECWARE Silver Reference Power Cord
(Offer not available for 240V models - limited time offer).