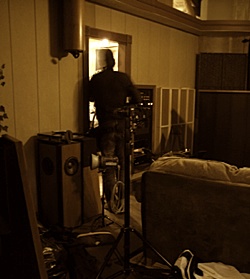 The Zen Ultra is a six channel all tube pre-amplifier that has been designed for the audiophile who wants both home theater and serious two channel at the same time.

It is also ideal for two channel audiophiles with bi-amp and tri-amp systems, allowing you control over each amplifier.

Of course this could be done with three separate audiophile preamps... if that were all it did. The Zen Ultra brings something badly needed to the table. It allows you to have total manipulation over six stereo channels at the same time and can mix two channels into any of it's six channels or visa versa.

This was done to handle and fix dozens of common problems in movie sound tracks and it was done to allow 2 channel listening with additional speakers in any ratio and level.

I started this project for myself around Christmas of 2000 and have been testing it on an almost daily basis for the past 10 years and still haven't had the urge to change or try to improve it. This is how I know it's more than ready to go into your system and successfully solve the same problems I had.



Below is a picture of the Zen Ultra mounted into the top of my equipment rack.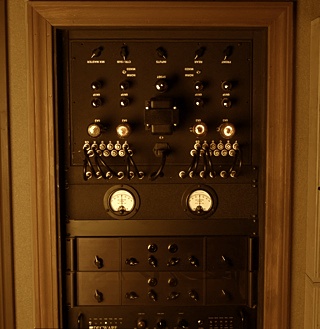 If you're an audiophile looking for the ultimate two channel preamp, or wanting to do a bi-amp or tri-amp setup, or HOME THEATER with real audiophile sound, or all of the above at the same time... take a moment to bookmark and read this entire page!

Steve Deckert / DECWARE High Fidelity Engineering
---

TWO CHANNEL CONFIGURATION
Have three different preamps at once and switch between each!
This is really cool if you enjoy rolling tubes since you can put a different set of tubes in each section. This way you can A/B different fully warmed up tube combination's while you listen... You might even have certain combination's that work best for certain types of music!
---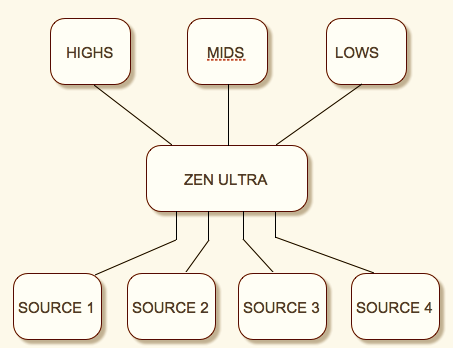 Use it to drive 2 or more amplifiers for bi-amp OR tri-amp systems
This gives you a

master volume

as well as individual volume controls for each amplifier making it painless to dial in your system's frequency balance!
---
MULTI-AMP 5.1 CHANNEL CONFIGURATION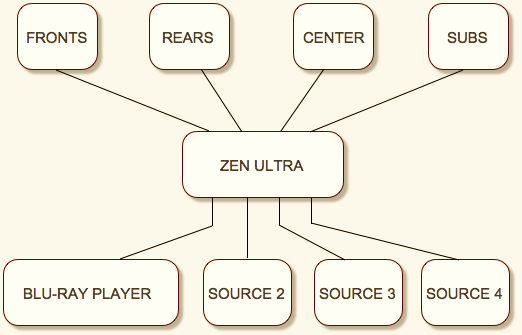 If you're interested in achieving true audiophile home theater...
Or trying to make a system that will do BOTH 2 channel audiophile playback AND 5.1 channel movies... please read this entire page, because after 10 years of field testing this preamp we have created something that virtually solves EVERY frustrating problem you've had trying to reach this goal in the past.
---




Description

:


The Zen Ultra can run multiple amplifiers, each with their own volume control. It can even send one source to all amps or send separate sources to each amp! Think about

that

for a minute.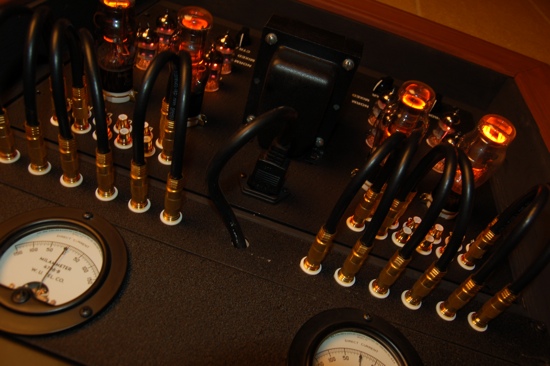 SHOWN IN A RACK

The Zen Ultra is a 6 channel preamp grouped into 3 stereo pairs - each with it's own volume control. So it's exactly like having 3 stereo preamps each with it's own set of inputs and outputs. HOWEVER, it does more...
We call this "direct mode" where each channel has it's own discrete input and output. This is what you need if you want to watch movies in 5.1 surround sound.
The first of the three main preamps is special because it has 4 pair of inputs for 4 different sources. The remaining two preamps only have 1 pair in and 1 pair out. That's a total of 12 channels.
The remaining two preamps can each be switched to use their normal input OR the input that is being sent to the first two channels. This means that after the movie is over and you want to spend some quality time listening to your favorite CD's or LP's you don't have to change anything! It also does an INCREDIBLE Stunt...
While you're listening to your two main speakers in stereo, you can simultaneously send the signal to your rear speakers, or your center speaker, or your sub - EACH WITH IT'S OWN volume control. This allows you to blend the other speakers in at any level you want!
Once you have your levels adjusted how you like, THERE IS A MASTER volume control for the channels you just added! This way you can turn the added speakers up or down all at once and without effecting anything that's happening on your main front speakers. This concept preserves the carefully set levels between speakers that you spent some time to achieve.
There is also a switch for each of the remaining two preamps that let you go between direct and bridged modes, effectively allowing you to turn on or off the center/sub channels OR the rear channels easily.
You can read an in depth explinataion of what you can do with this preamp
HERE
.
---
How it handles movies
: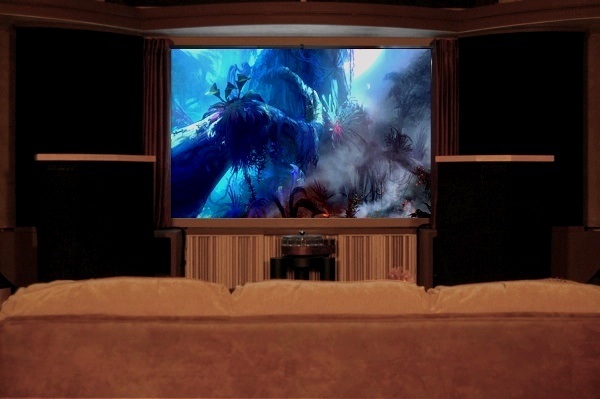 STEVE'S HOME THEATER AND 2 CHANNEL RIG
The Zen Ultra is beautiful in it's problem solving abilities!
You can instantly adjust the volume of the front channels, rear channels, center channel and subwoofer with REAL KNOBS! No more remote controls you can't read or on screen setup menus with calibration tests that never work right anyway! You simply start the movie and if nessesary make a couple easy adjustments
as you listen
to the movie.
Once you have a higly transparent, all tube home theater setup you'll have breathtaking resolution, enough to make movies sound better than 90% of all CD's and you'll quickly become aware of less than stellar sound tracks on some movies that in the past would have gone unoticed on a typical solid state home theater...
In fact, here's some all too common let downs when you're expecting great sound in 5.1 surround... and how to correct them on the fly with the Zen Ultra!
---


When the

sound track

on a movie sucks...
You'll find one of

these

things happening:
1)

It was mixed with a dominent center channel and the main speakers only come on when cars drive by or on certain scenes. This can ruin a movie for any audiophile.
FIX: Take the stereo output from your Bluray player and run it into one of the auxillary inputs on the front channels. Select that input. The Zen Ultra will downmix it to the center, sub and rears in any levels you want, in this case the fronts. You now have a large stereo image, sound comming from the mains at all times, and still have your center channel doing the dialog!
2)

The rear channels are silent throughout 90% of the movie because they mixed it that way. Then sounds blurt out from the rears the remaining 10% of the time causing more of a distraction than anything.
FIX: Run the rears at a reduced volume with the same signal on your fronts with a single flip of a switch. This actually sounds far better than you would think, in fact it sounds so good this way that you'll find yourself doing it often.
3)

There is no bass because the movie was mixed for cheep hometheater crap where the sub is doing bass instead of low frequency effects. Also common on many music videos.
FIX: Run the center/sub channels with the same signal on your fronts with a single flip of a switch. Now instead of the sub playing only low frequency effects (some movies only have a few seconds of it in certain scenes) it plays bass and your movie sounds full and tight.
4)

General sound quality of the entire movie is offensively bad and edgy.
FIX: Downmix it from the main front speakers into first the center/sub channels and then the rear channels with the flip of two switches. Do one, the other, or both. Another option is to then switch your input selector to the aux stereo signal coming from your Bluray player. This gives you 4 different sounds at your fingertips.
NEVER ONCE

during one of these

BUMMER SCENERIOS

did you have to stop the movie, find the remote, use a setup screen, or turn the lights on. You simply turn a knob or flip a switch and instantly save the movie without so much as a bump in the road. Your guest won't even know what happened - except that it suddenly started sounding good.
THE SOLUTION TO THESE 4 MOVIE BUMMERS

are solvible by no other means, and it was 10 years and 500 movies of systematically overcoming all of these things that created the Zen Ultra. NOTE: During this R&D many many DVD and Blueray players were tested and found to have great inconsistencies in how they decode various movies. For example, when a movie exibits any of the prior mentioned bummers on one player, the same thing would not happen on some of the other players... but those other players would have the problems on different movies whereas the original player would not. This is WHY you can't win with a setup other than the Zen Ultra. (

In addition to using several players, several computers were also used with the same results

).
You can read an in-depth article about the design and what you can do with it
HERE
.
---






The Zen Ultra is 100% tube, all point to point silver wired and completely hand built with no curcuit boards

! It's pure analog - with real knobs, real switches. That leaves virtually ZERO competitors - there simply isn't anything anywhere near this quality that will do what the Zen Ultra does.



Drive up to 12 amplifiers

There are 4 output pairs for the main channels and 2 output pairs for the surround (or aux) channels to drive a total of 6 stereo amplifiers or 12 mono amplifiers.


Supports up to 12 input channels

There are 4 output pairs for the main channels and 2 pairs for the surround (or aux) channels with the abiity to run 3 pairs simultaneously. Basically hook up four 2 channel sources combined with 4 additional sources, such as Center, Sub, Left & Right Rears.


Tube regulation

to filter off the harmonics and artifacts from the power supply giving you 100% grain free sound with jet black backgrounds.

Volume controls

for each stereo pair and a

master volume

for the four aux channels.

Bridging switch

on both pair of aux channels letting you select different sources for the aux channels without effecting the main channels.

Self biasing

. There are no worries about adjusting the bias - ever. Tubes last for several years in this amp and there is

virtually no maintenance

. All you ever have to do is turn it on and enjoy the music.


Proprietary USA made

power transformers. Designed with the best grain oriented silicon steel cores and meticulous interleaving for extra cool operation and low stray magnetic fields.

Hand constructed and soldered

from start to finish by a single person. It's using top grade components, switches, connectors, gold sockets and silver wire all soldered together with the absolute minimum number of nodes. There are no circuit boards. These amps are fine example of American made ART and could never be built like this were they to go into mass production.

ADDITIONAL FEATURES:

1/8 INCH THICK LASER CUT DUAL MONO CHASSIS
MIRROR IMAGE SYMMETRICAL LAYOUT
DESIGNED TO ENSURE CLEAN INCOMING POWER
POWDER COATED BLACK TEXTURED FINISH
5U4 TUBE RECTIFICATION
CHOKE REGULATED POWER SUPPLIES
LINEAR OPERATION WITH ZERO NEGATIVE FEEDBACK
PURE CLASS A OPERATION AT ALL TIMES
TOP GRADE GOLD RCA JACKS - NOT CHINESE
TUBE VOLTAGE REGULATION FOR ALL TUBES ALL CHANNELS
SYMMETRICAL SOLID COPPER GROUND BUSS
BASIC WIRING POINT TO POINT / MATCHED LENGTHS
NO HUM OR NOISE EVEN ON HIGH EFFICIENCY SPEAKERS
COMPATIBLE WITH SEVERAL ALTERNATE TUBES
FRONT MOUNTED VOLUME/GAIN CONTROLS MAKES FOR EASE OF USE
REMOVABLE POWER CORD WITH FUSED IEC CONNECTOR
ON/OFF SWITCH
SILVER SELECTOR SWITCHES
SILVER INTERNAL WIRING
USER INTERCHANGEABLE HARDWOOD BASES



LIFETIME WARRANTY

- All ULTRA's come with a lifetime warranty because ULTRA's do not break.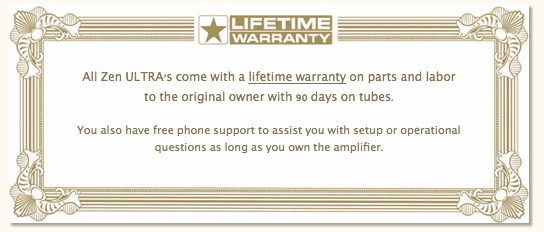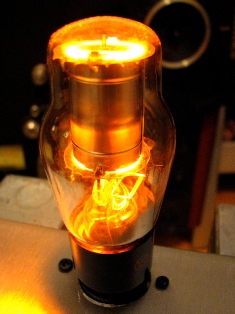 The Zen Ultra uses vacuum tube regulation! First of all, the vast majority of tube amplifiers for sale do not even have tube regulation. The reason is because it's a luxury in their eyes that just adds to the price.

N
ot to mention the obvious... but just because an amplifier has tube regulation doesn't mean it's going to sound better. Tighter and more control, yes. Better? ...not always. The classic shunt style regulation so often seen in the tube amplifiers that do offer it, often poison the transparency with injected noise that must be further filtered out. The Ultra doesn't need tube regulation to improve power supply performance. It features an oversized power transformer with tube rectification with separate filter sections for each channel. It's a
brute force approach
that delivers over 150 ma. of current when less than half of that is actually used by the circuit.
The Zen Ultra is tube regulated on every channel with VR Tubes (shown right) giving you four of these beauties to watch softly glow when the lights are out!
As usuall we do things a little differently in that our Voltage Regulation tubes are wired

in series

with the load. In that configuration they become a filtering device instead of a regulating device. The VR tubes place a measurable

vacuum gap

between the load and the power supply. This creates Ultra Clean Power because all of the the contamination that creaps into your power transformer via the wall outlet is filtered off. It literally doesn't make the jump between the cathode and anode of the tube. (
Noise from pollution in your local power grid is greatly reduced)


Talk about black backgrounds, we could call it the grain eliminator or the liquidity insurance program, or just an unfair advantage over virtually all of our competitors.
This is one of the reasons why
we know
that unless you own and use a power generator, like the PS AUDIO power plant as an example, there is no way your present preamp will sound as grain free as a Zen ULTRA (...assuming all else was equal and even that's unlikely.) And if it wasn't enough to do it once, we employed this technology on every channel. That's a lot of GLOW from these beautiful tubes that don't even get hot or wear out!
You won't find tube regulation in the vast majority of power amplifiers, or preamplifier and you certainly won't find it in a 6 channel home theater preamp!!! Yet, impressive as it might sound it is only a small part of why the Zen Ultra can achieve the unique sound quality that is has.
---

---



The Zen Ultra has some options.




You can select from the Black Figured Base (shown at the top of this web page) OR the Contemporary Style Base (shown above). Different woods can be selected from the shopping cart. The Black Figured base is only available in Black.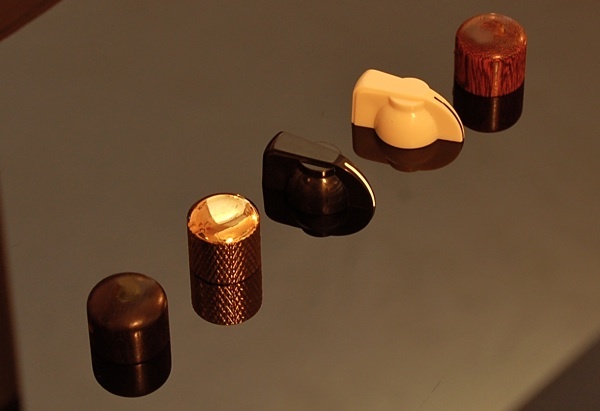 There are also some knob choices. From left to right are Ebony, Gold, Black, Cream, Walnut. You can configure your Ultra with the knobs you want from within the shopping cart.




You can also purchase this preamp

without tubes

to save you money. If you do select tubes, you can be assured of the finest grade and all will be tested in your Ultra before we ship it.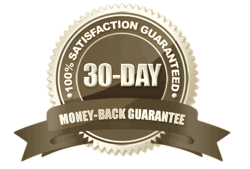 We offer this preamp with a 30 day money back trial so you can
hear one in your own room!
---