OVERVIEW



The Zen Open Baffle is completely unique. There is no other speaker like it. Decware's owner, Steve Deckert, once again demonstrates radical out-of-the-box engineering! It's an open baffle design featuring a single full range driver in a tall narrow baffle. It has no crossover and no other woofers to help out with the bass, yet it has bass!



If you are familiar with open baffle designs, you already know that to get any bass the baffle must be wide and the driver low to the floor (and usually multiple drivers must be used). The Zen Open Baffle, inspired by some of Tesla's work, uses energy from the main driver to excite low frequency resonances in a dedicated cavity which in turn produces harmonically correct bass.

It's quite literally like pulling perfect bass out of thin air with no woofer, no compression and no cabinet vibrations!

With the full range driver up high at ear level and in a narrow baffle, reference imaging and a total disappearing act is achieved - making this speaker qualify for the axiom "

Having your cake and eating it too!

"

With high efficiency, these speakers pack huge rewards with amplifiers all the way down to 2 watts!


---
SPECIFICATIONS WITH INCLUDED FRX DRIVERS
95 dB with 1 watt at 1 meter
48Hz ~ 20kHz +/- 3dB 30Hz ~25kHz +/- 10db
8 ohm nominal impedance
Driver compliment - Decware FRX full range drivers
Crossovers - none
2 ~ 15 watts continuous
Size 12.5" wide, 16" deep, 52" high
Solid 1.5" thick cherry baffle
No Grills
5 way binding posts on rear
Shipping weight 75 lbs ea.

---



HOW IT WORKS






SUPPORT

We also have a support forum with many people who own our speakers who's experiences you may benefit from.






REVIEWS

You may read

reviews on our products

here.




---
U P D A T E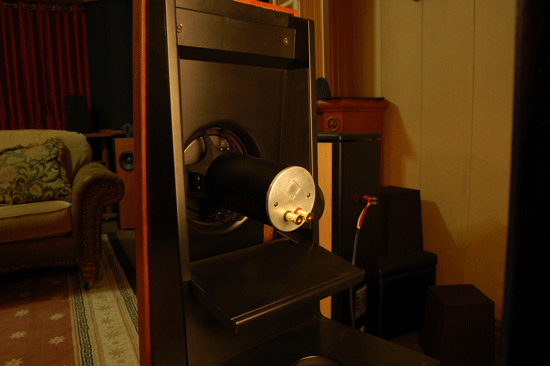 The ZOB is now being sold with the new FRX full range driver shown above!



You can read about the new driver

HERE !