The CSP3 is a tube preamplifier that does two things:
It makes your DAC sound better - like twice as good - and it makes your amplifier sound better - a lot better.

It does this because it has complete adjust-ability of both the input and the output levels with the addition of a master volume. This gives you complete control over dynamics and weight - a luxury that virtually no system has. We think of it as almost a necessity because when you hear the difference it makes, living without it seems silly... and it is.

Of course those features are meaningless until you understand how good Decware tube gear sounds and how well it is built. 100% USA parts and labor, each one hand built by our artists with excellent karma and a lifetime warranty.

Our
designs, circuits and implementation are not intended to hit a price point. We simply make things sound as good as we know how, which is why this unit is still our only two channel preamp after 12 very successful years!

World Class OTL headphone amplification was actually what prompted this design back in 2002 and a World Class reference headphone amp it is ~ giving you the fidelity and imaging of the very best boutique models.




Model CSP3 Line Level Preamplifier / Headphone Amplifier
QUICK DESCRIPTION
The CSP3 preamplifier/headphone amplifier features a 100% tube circuit that is point to point wired with no circuit boards to improve both fidelity and reliability. As a preamplifier, it can drive any amplifier large or small, tube or solid state with perfect synergy every time ~ made possible by it's adjustable output levels and master volume control. As a headphone amplifier it is at home with almost all headphones between 32 and 600 ohms.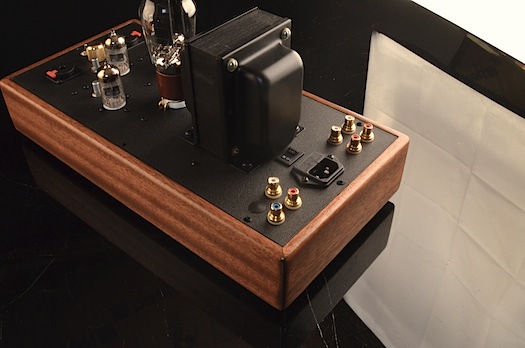 Rear View - 2 pair of inputs - 1 pair of outputs - 1 mono output
QUICK LAYOUT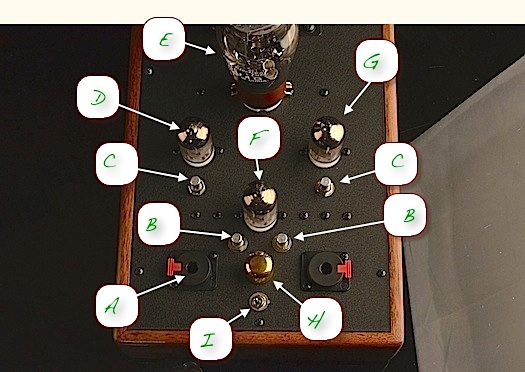 FEATURES

A) Locking 1/4 inch headphone jacks - one for each side.
Use either side or both. Optional XLR headphone jacks in dual 3 pin or dual 4 pin available.

B) Left and Right Headphone Calibration Controls.
These are used to calibrate the master volume control so that your headphones don't get too loud, too fast. Typically set so that the master volume control is half way up at your normal listening level. They can also be used to adjust the balance between the left and right ears.

C) Left and Right Line Level Output Controls.
These are used to dial in the gain of this preamp so that it is perfect with any amplifier. You can adjust the outputs to between zero and six volts. The trick to this is also simple. Just turn them all the way down, turn on your amplifier, raise the master volume to around half way up and then slowly adjust the output level controls to reach your normal listening level. This guarantees a perfect match with any amplifier regardless of it's input sensitivity and power. These can also be used to adjust left/right balance between channels.

D) Left output Triode 6N1P-EB or 6922
This is the work horse tube for the left channel. While it is a dual triode, it is wired in series with itself to lower the output impedance and improve transparency since the two halves of the tube no longer half to match.

E) Rectifier Tube - 5U4 or 5AR4 or 5Y3GT or some 274B
This is the power supply tube that rectifies AC into high voltage DC. Compatible with those listed above tube rectifiers have three advantages; 1) They sound better 2) You can use different ones for different signatures when voicing your unit 3) They protect the amp from power surges. In extreme cases such as nearby lightening strikes they will fail to save the preamp. Easy and inexpensive to replace, they eliminate costly service and down time which is common with solid state rectification.

F) Stereo Input Tube - 6N1P-EB or 6922 or 6DJ8


This is the main tube for voicing the unit. It is a dual triode and has both the left and right channels going through it. This makes tube rolling quick and inexpensive when you get in moods to experiment with the CSP3's sound.



G)

Right output Triode 6N1P-EB or 6922

H
This is the work horse tube for the right channel. While it is a dual triode, it is wired in series with itself to lower the output impedance and improve transparency since the two halves of the tube no longer half to match.

H) Master Volume
This is the master volume control located near the front for ease of access and only one inch away from the input tube which keeps the signal path as short as possible. Optionally you can configure your CSP3 with a gold contact stepped attenuator from within the shopping cart.

I)

Source switch




This simply selects between two line level sources. It has silver contacts and is located directly next to the volume control to eliminate long signal paths. This is a purist way of having two inputs. If you require more inputs, we sell a high quality switch box that can be used to expand the inputs from two to five. Often we'll run our best analog source directly into input A on the CSP3 and input B is the switch box containing all of our digital sources.





OPTIONAL WOOD BASES

This amplifier is available with different wood bases shown below.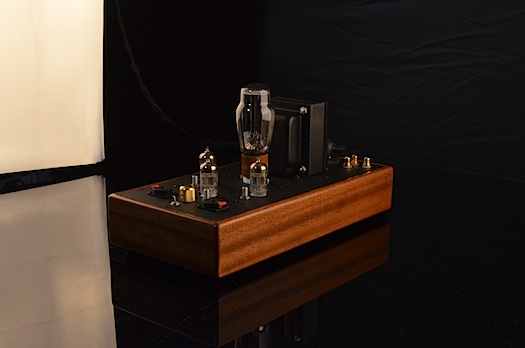 shown in standard walnut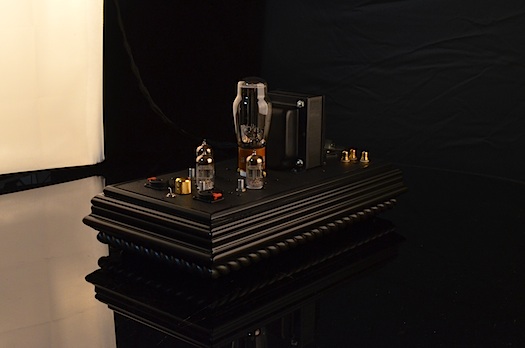 shown in standard black figured base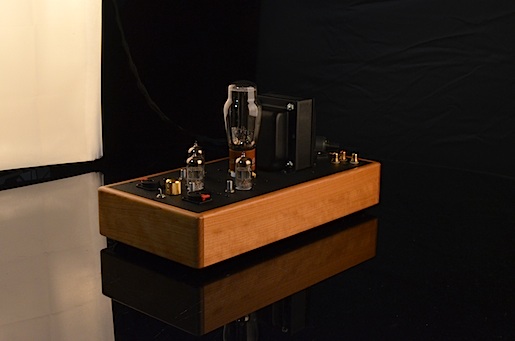 shown in optional cherry (oak and maple are also available)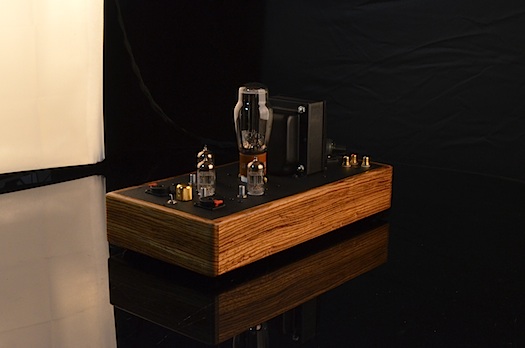 shown in optional exotic zebra wood (if we can get the wood, we can build the base in any exotic)

OPTIONAL KNOBS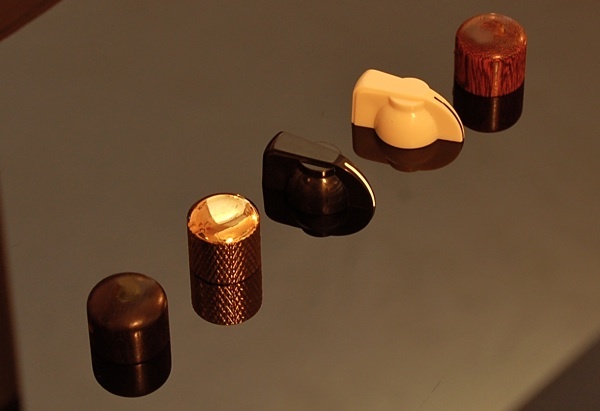 ebony knob, gold
knob

, black chickenhead
knob

, cream chickenhead
knob

, walnut
knob
INTERNAL OPTIONS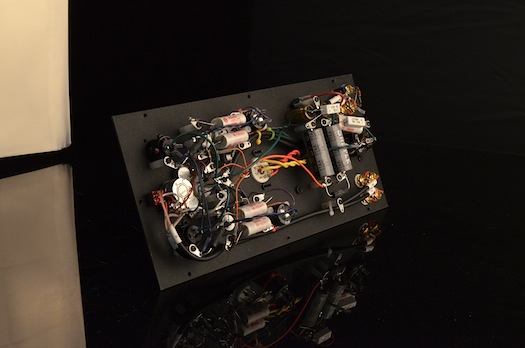 CSP3 Inside View


There are some internal options for the CSP3:

A) 20 position stepped attenuator to replace the smooth action volume control.
Stepped attenuators are not a necessary upgrade to hear the amazing fidelity of the CSP3.

B) Cryo Treated Beeswax Caps with silver leads.
These coupling capacitors are also not a necessary upgrade to hear the amazing fidelity of the CSP3.

C) Output level 0-6 volts or optionally 0-12 volts.
You would only need 0-12 volts with certain SUPER HARD TO DRIVE amplifiers like some SET amps that omit the first gain stage.

D) Dual Stereo Outputs
You can change the default mono output to a stereo output giving you two pair of stereo output jacks. This is handy if you run two amplifiers to power your speakers (Bi-amping).

E) Alternate headphone jacks
You can change the dual 1/4 inch headphone jacks to dual 3 pin or dual 4 pin XLR jacks to accommodate balanced headphone cables.

NOTE: All options can be configured and priced from within the shopping cart.
---

SUPPORT
This amplifier is hand built in the USA by DECWARE / High Fidelity Engineering C0. It comes with a lifetime warranty to the original owner. If you purchase one second hand and ever have questions or technical problems we WILL be happy to check it out for you and service it if needed for a very reasonable rate.
We also have a support forum with many people who own this amplifier who's experiences you may benefit from.


REVIEWS
You may read
reviews on our products
going back 10 years.
HISTORY of REVISIONS




CSP / Manufactured from 2002 to 2006

The original CSP featured a simple steel chassis and internal output level controls. It was a line level preamp only.





CSP2 / Manufactured from 2006 to 2010.

The second model featured an upgraded chassis, and a completely new circuit featuring an OTL headphone output. Line level adjustments became external and increased in max output by five times.


CSP2+ / Manufactured from 2010 to 2013.

This version has an added set of variable input trim controls used to fine tune the output level from your source. Very useful for serious headphone users as it allows you to get the volume range dialed in where you want it. To accomplish this, a complete redesign of the internal layout was implemented making this CSP2+ even more transparent than before.



CSP3 / Manufactured from 2013 to present.

This version features the same great circuit in a completely new more ergonomic and better sounding layout. A high mass powder coated steel plate with black textured finish adds several pounds and the improved layout makes it possible to offer the larger sized cryo treated beeswax caps. Sonically this unit has improved transparency and blacker backgrounds - two things that didn't need improving but simply happened as a result of the new layout.


This amplifier requires no adjustments or maintenance other than changing tubes every couple years.

Weight

16 lbs. ea.

Dimensions

8.5" H x 7.250" W x 14.75" D

Circuit type

Single ended Class A Triode OTL

Output

Adjustable 0 ~ 6 volts or 0~12 volts


Input voltage

250mv ~ 5.0 volts

Noise / Hum

Less than 0.5 millivolts

Input Impedance

50 KOhms

Output Impedance

< 60 ohms

Response

5 Hz ~ 70 kHz

Feedback

ZERO negative feedback used

Rectification

5U4 tube rectification

Signal tubes

6N1P-EB or 6922 or 6Dj8

Transformers

Transformers custom made by Decware

Biasing

Self-Biasing circuit - never needs adjustment

Resistors

All resistors are audiophile grade

Signal Cap

Audiophile grade poly film caps


Filter Caps

All filter caps are premium quality

AC cord

Fused IEC connector provided with removable power cord

Consumption

65 watts at full power

Input jacks

High Quality RCA type 24K Gold / Teflon

Output jacks

High Quality

RCA type 24K Gold / Teflon

Headphone jack

High Quality

dual 1/4 inch stereo jack or dual 3 pin XLR or dual 4 pin XLR


Warranty

Lifetime to original owner / 90 days on tubes

VOLTAGES

This amplifier comes standard with our World Voltage Compatible Transformer. Your CSP3 will be automatically wired for the correct voltage for your country and be supplied with the correct removable power cord.


DESIGN NOTES



Read original the CSP2 Design notes.


OWNERS MANUAL

The owner manual can be viewed on line or printed: CSP2 Owners manual.pdf


CSP3 owner's manual coming soon. Note: The only changes were to the layout and sound quality. All features remain the same so the CSP2 owner's manual can still be helpful while we wait for the CSP3 manual to be written.




---
We offer this amp with

a 30 day money back trial


so you can
hear one in your own room!
Available in 120 or 240 volts.